In case you were wondering about the blog title,
Happy
is a new mobile prepaid in which in my opinion is sort of like a gimmick to attract more customers by
Digi
(e.g.
Truth about prepaid
) Wonder why I would say it's by Digi? Just check out the website and in the about page, it's said that it runs on Digi Telecommunications infrastructure, and therefore I just jumped to the conclusion it's by them. I'm sure most of you would too if given through experience, only Digi usually comes up with these types of 'things' to get more customers and heck, it's freaking smart!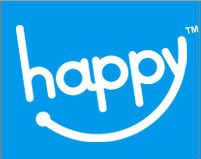 Now, back to 'Happy'. The rates aren't too bad actually that I really might consider getting a second line. 99 sen maximum for a single call? I mean, who wouldn't want that! That is freaking cheap for those who calls alot, in which compared to the
Maxis
family plan whereby only the people who signed up for the family plan can enjoy incredible rates, this prepaid allows users to call any network at a single rate of 99 sen maximum.
Now, I'm not exactly promoting this new prepaid here. It's just that while we consider the price wars and competition in the mobile market in Malaysia which is so real, we should somehow reap benefits which is by right our 'consumer rights' (haha!).
Although it's still not that popular yet considering it's new, prepaid reloads are tough to find, you can only purchase it from either online or certain Giant Hypermarkets but still consider these options:
1. 10 sens per sms to any network
2. 1 sen for every second you make a call
3. 99 sen maximum per call??
I am seriously considering it, now wouldn't you?
Click
HERE
to vote for me...
Edit: *I've even got a Happy add from Nuffnang below =D*